I see this at the top of my modsec config in WHM
Quote:
# ModSecurity whitelist file
Include /usr/local/apache/conf/modsec2.whitelist.conf
and this also in my modsec plugin control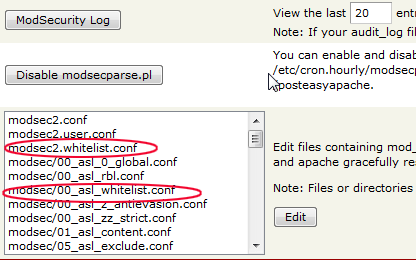 Doesn't this mean it is set up properly?
Quote:
you can also use the examples in the wiki to setup whitelisting
This is where I got the idea from.
Quote:
If you are not using ASL, simply add your IP address to the file:

/etc/asl/whitelist

And restart Apache.

Note: For this rule to work, in ASL you must have the MODSEC_00_WHITELIST ruleset enabled.

If you are not using ASL, then you must have the 00_asl_whitelist.conf ruleset loaded.
Quote:
# Do not edit this file!
# This file is generated and changes will be overwritten.
This is what I see inside the modsec/00_asl_whitelist.conf when I click the edit button in WHM plugin control so I assume I must add the ip address range in modsec2.whitelist.conf correct?
Udate:
I tried to add the ip range into modsec2.whitelist.conf and received this error so you must be right in your assumption on it not being set up right. I have no idea how to set it up right if I cannot do it inside of WHM so I guess I'm hooped.
Quote:
An error occurred while running: /usr/local/apache/bin/httpd -DSSL -t -f /usr/local/apache/conf/httpd.conf.work.R4H9ZfI5HWddcVLm
Exit signal was: 0
Exit value was: 1
Output was:
---
Syntax error on line 6 of /usr/local/apache/conf/modsec2.whitelist.conf:
Invalid command '66.249.64.0/19', perhaps misspelled or defined by a module not included in the server configuration